Ready to use Apple Pay with Pleo? Let's get started
Pleo has been on a mission to revolutionise how business spending works for a little while now.
We want to make it simple for people to buy the things they need to do their job brilliantly.
How do I set up Apple Pay with Pleo?
For a lot of our customers, this is something you've been asking about for a long time.
So, you might be in a hurry to get up and running with it. We appreciate that!
If you're already using Pleo, you can head here to get more instructions to set it up.
If not, or if you're just feeling curious, you can read on for more details about how it works.
Make payments on-the-go with Apple Pay and Pleo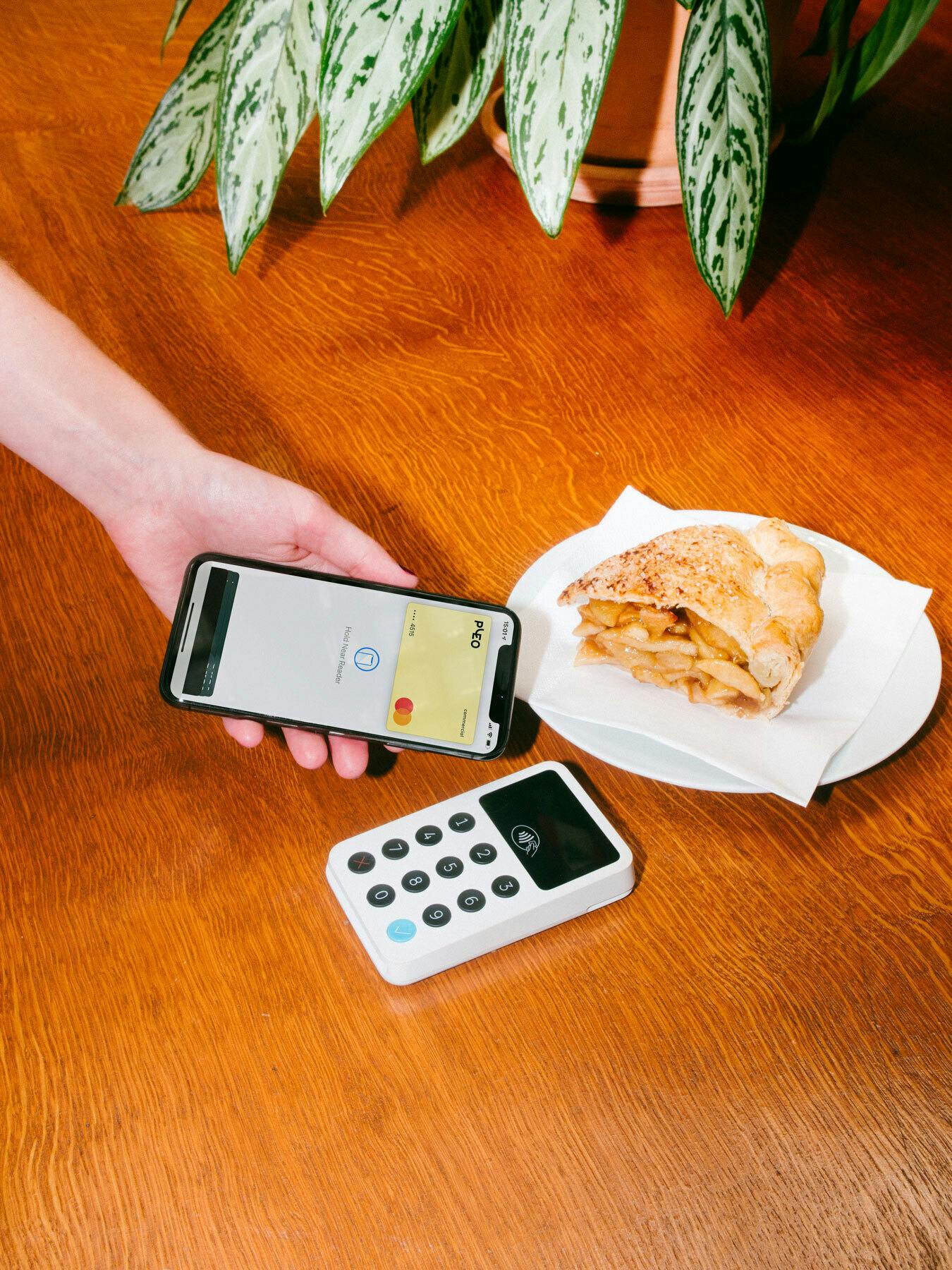 Whether you're grabbing a taxi as you rush to a meeting or picking up vital office supplies, paying for things shouldn't be a huge hullabaloo.
Pleo and Apple Pay mean you can make payments with the devices you carry every day.
(No hullabaloo.)
You don't have to dig around for your card, if you'd rather just pay with your iPhone or Apple Watch. That's not all though, you can even pay in apps and online using your iPad or Mac, too.
So many options.
Keeping your transactions secure
When you make a purchase, Apple Pay uses a device-specific number and a unique transaction code.
Your full card number is never stored on your device or on Apple servers, and it can't be shared with merchants.
Apple Pay doesn't keep transaction information that can be tied back to you, ensuring all purchases are private.
Where can I use Apple Pay with Pleo?
The simple answer is anywhere you see these symbols:
How does Apple Pay work?
We know that some of our customers are die-hard fans of Apple Pay already, using it to pay for things with their personal finances.
But some of you have yet to try it out – in which case, this might be the moment you've been waiting for.
Apple Pay is Apple's mobile contactless payment service, launched back in 2014.
It's compatible with a whole host of Apple devices, including iPhones, iPads, Macs and the Apple Watch.
One thing of particular relevance at the moment: Apple Pay is also not subject to the £45 contactless limit (adjusted from £30 during the pandemic) on card payments in the UK.
And a final important thing to note: If you were a UK customer before September 2020 but haven't ordered new Pleo cards, you won't be able to use Apple Pay with your existing card.
Sorry about that – but we will reach out as soon as you can order new Pleo cards and start using Apple Pay. Learn more here.
Remember to update your app to use Apple Pay: version 3.8.0 or higher.
Smarter spending for your business
Save time on tedious admin and make smarter business decisions for the future. Join Pleo today.
Book a demo
You might enjoy...
Invoices are a huge part of how companies spend money, and that's why we've launched Pleo Invoices across Europe.

---

Employees always need to buy things for work. But you can't always use your company card. With Pleo, reimbursements are refreshingly easy.

---

Whether you need a bookkeeper to help tidy up your accounts, or you're looking to digitise your finance stack, there's an accountant for you...

---
Get the Pleo Digest
Monthly insights, inspiration and best practices for forward-thinking teams who want to make smarter spending decisions