Tips for controlling your business spend during a recession
Let's face it, things are tough out there right now.
Inflation is at a 40-year high in the UK, and a possible recession is on everyone's minds.
With so much up in the air, we want to highlight to our 20,000+ customers (and — most crucially — each business's faithful CFO or Pleo super admin) how they can keep the lights on and control their business expenditure with Pleo.
Automate where you can 
Why spend hours doing something that could take minutes? Automating your business processes is a simple way to improve your team's productivity and make your services more efficient. 
Pleo's spending solution, for example, helps to free up your finance team so they can focus on more important things. Not already a Pleo user? Sign up in minutes and you could save your admin team 138 hours a year (yep, really). No more chasing receipts or manually filing expense reports. With our virtual and physical spending cards, your employees can buy what they need without having to borrow the one company card that's doing the rounds. 
Introduce a (new) Pleo user policy
Don't get us wrong – we're strong advocates for empowering team members to be accountable for company spend.
But during such fiscally conservative times, it can be effective to set out the state of play and new ground rules for what is (or isn't) a necessary business expense, and suggested budgets for each spending category.
We have a dummy user policy available to download right here. Reach out to your Pleo rep if you'd like us to create a personal one for your team.
Adjust your Pleo card limits
While you're at it, remember you can adjust the spending limits on your team's Pleo cards. Reducing the spending limit means employees will have to get approval if they want to spend more than stated on their account.
You can set two different types of spending limit:
Card limit: This can be a monthly/total/no limit cap on the amount a user can purchase. This is a "soft limit" which means that if the amount of the previous transaction is under this limit, the next transaction will go through, even if it exceeds the limit.
Limits per purchase: This refers to setting a limit on any single purchase. This means that any transaction(s) over this limit is automatically declined.
Be mindful of categories, tags and notes
With eagle eyes focusing on company spend, it makes sense for your team to be even more thorough with what they are purchasing and why.
Luckily, users can implement all the necessary feedback using our note, category and tag functionalities within the Pleo app, whenever they catalogue an expense.
Here's a one-page explainer PDF on how to do just that:
Get the most out of categories and tags
Use Pleo Assurance to encourage responsible spending
We're always going to champion autonomy when it comes to business expenses.
The benefits go two ways: team members feel accountable for financial decisions, while finance directors and admins are able to indicate they trust employees, all while reducing paperwork and monotonous tasks.
Finance teams, especially right now, might not have the time to look at each and every expense people in their company make.
That's why Pleo Assurance is so useful. Companies can be sure that a simple, automated system is in place to catch the expenses that deserve extra scrutiny.
This gives finance teams and reviewers the gift of time since they don't need to review every single expense.
On top of that, Assurance gives additional context to employees with the Seen By extension of the feature.
Seen By allows employees to know exactly who in the company has seen an expense and its details, giving them peace of mind and time back to focus on what really matters.
---
Create an expense policy…
… and make sure people follow it! 
The purpose of an expense policy is to outline exactly how much money employees can spend on things like travel, meals and transport. Having a strict expense policy is an easy way to take control of company spending. For example, you might want to limit your team to spending less than £15 per head on business-related meals or using public transport instead of using Uber.
Make sure your expense policy is readily available and easy to find. Why not pin it to a Slack channel or stick copies on the walls of your office? After all, if people can't find the policy, they're probably not going to follow it.
Dig into Analytics
As a Pleo admin, you have yet more ways of staying up to speed with your team spending with the Analytics panel found in the Pleo web app.
Simply put, it gives you the helicopter view of your business's expenses.
You can filter on teams, departments, types of expense and merchant, plus create easy-to-digest reports that will help you realign budgets on certain projects, and see where you can cut costs on repeated payments.
Reclaim the VAT you're owed
Our VAT reclaim service is something that was already in the works but we're rolling it out even faster now.
It's going to make sure businesses like yours win back as much money as possible when racking up expenses between 2021 and 2022 in other countries. Anything from accommodation to meals and drinks and phone charges.
And once you authorise Pleo to be your tax agent, we do all the legwork to reclaim the VAT reimbursements that you're entitled to.
Leave it to us and concentrate on the rest of your to-do list. Find out how to sign up for the VAT reclaim service.
Pleo Perks: use them or lose them!
It's not just company cards, real-time expense tracking and automated expense reports you get when you join us. Nope, we're all about giving something back.
Thanks to Pleo Perks, you could pocket over £50,000 in rewards and discounts. So you can help your team work smarter while you focus on saving big bucks. Whether you want credits for Amazon Web Services, money off your annual Dropbox subscription or your lunch for less from City Pantry, take a look at what's on offer.
Got an idea for a perk that packs a punch? Let us know at perks@pleo.io. 
We're here to help
On behalf of the entire Pleo team – from marketing to support, engineering and beyond – we're here to help provide support, advice and encouragement to all our users so we can ride out the wave of this challenging period. Got questions or concerns? Please reach out to us on support@pleo.io.
And while we have you here, don't forget to check out our essential tips for how to make your team more remote-friendly.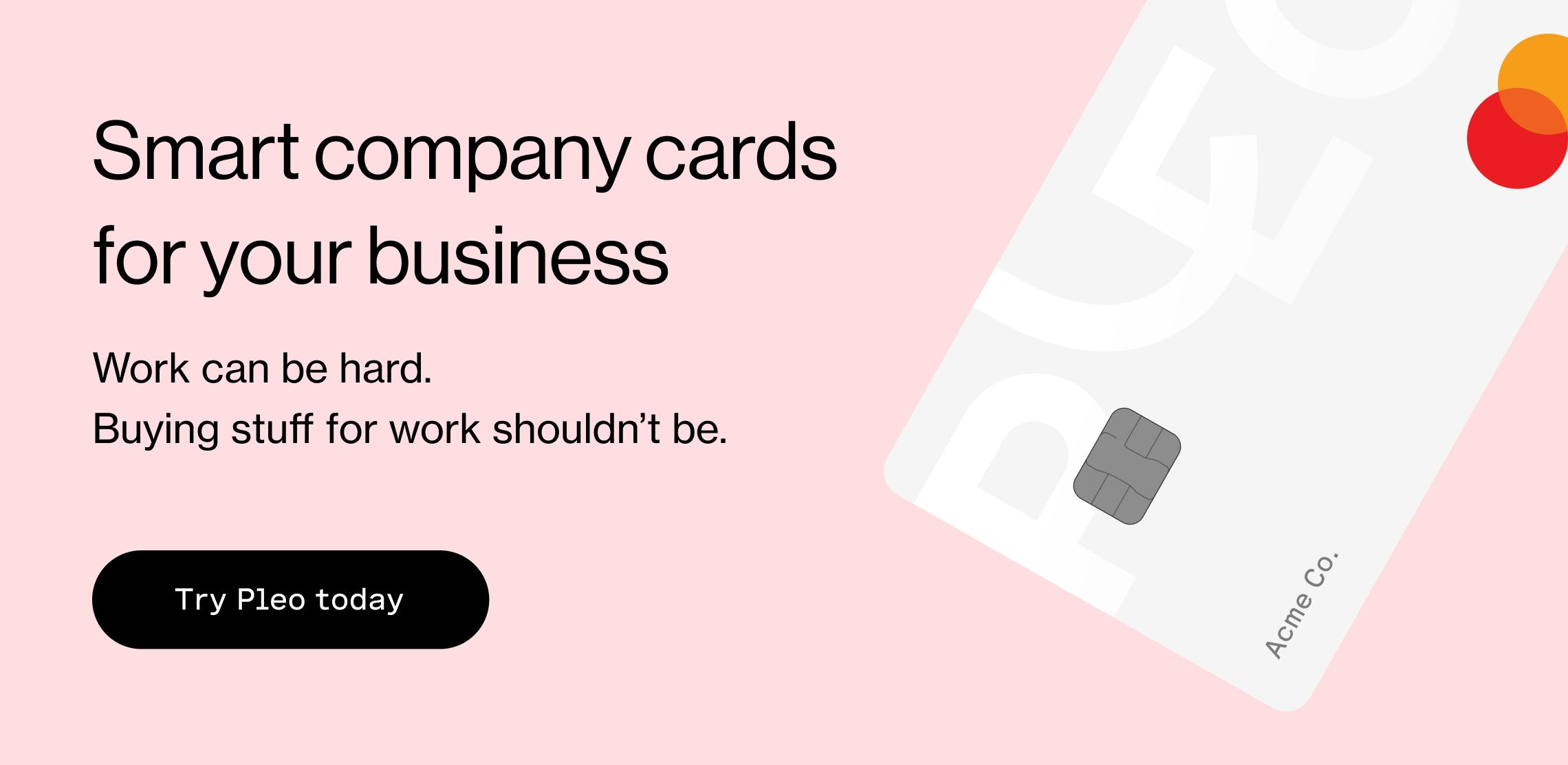 Having written for fintechs like Curve and ClearScore, I'm now spreading the word (literally) about Pleo.
frankie.jones@pleo.io
You might enjoy...
What's a Pleo Team Camp? They're key to keeping the whole company aligned on our overall strategic direction and a whole lot more ...

---

Writing a petty cash policy may seem like lots of work, but read this to learn why they're important.

---

What do a librarian and a petty cash custodian have in common?

---
Get the Pleo Digest
Monthly insights, inspiration and best practices for forward-thinking teams who want to make smarter spending decisions