Perks Spotlight: Superscript
The spring of 2020 was wildly unpredictable and scary for many, to say the least.
On a business level, companies across the globe scrambled to cut costs and save money in the face of sudden upheaval.
Seeing the impact on many of our customers, we decided to act. The word Pleo originally means "more than expected" and if ever there was a time to offer that to our subscribers, this was it.
In record time, we built a landing page, got in touch with some of the world's most loved business software companies and negotiated discounts.
Thus far, we've managed to get over 30 incredible companies on board, like Dropbox, Hubspot, AWS, Hotels.com and Segment. Across all of our Perks offers, businesses signed up to Pleo can get up to £50,000 back in discounts and rewards.
Each month, we'll be introducing one of our Perks partners – going through what they do, what makes them unique and the deals they have on the Pleo Perks platform.
For this first edition, we spoke to the folks over at Superscript.
Superscript's origins
Superscript is a London-based technology company offering flexible business insurance.
It was founded in 2015 (originally as "Digital Risks") by Cameron Shearer, CEO and Ben Rose, Chief Underwriting Officer.
In describing how the idea for Superscript came about, Cameron says:
"Small and micro businesses have been traditionally underserved by the insurance market. Traditional insurance models are unable to adapt quickly enough to meet complex and changing business needs.
"This means that businesses often find themselves paying over-the-odds for insurance that they don't need, or risk being under-insured as they're not able to find bespoke cover. Therefore, part of what we deliver in our business insurance is more personalisation and tailored cover options."
The founders came from very different industries (Cameron being a technology expert and seasoned entrepreneur, while Ben's expertise lies in risk management, underwriting, broking and claims), meaning they complemented each other well.
A closer look at the business
Superscript caters "to the millions of small businesses operating across all sectors, from sole traders up to medium-sized businesses." And just like Pleo, they service thousands of different business types.
While the insurance industry is a crowded and highly competitive one, Cameron and his team at Superscript believe they have an edge thanks to their "proprietary technology, expertise in emerging risks and threats, and partnerships with some of the world's biggest underwriters."
Their relatively unique business model – flexible, subscription-based insurance – also sets them apart from other bigger, more traditional insurance providers.
In fact, according to Cameron, businesses can sign up for Superscript in under eight minutes – making the experience quick and seamless. And a lot more enjoyable than most insurance applications.
While the Superscript team is working hard to maintain a product that their customers love, some of their other short to medium term goals include being able to expand across Europe and broaden their ability to serve more and more small businesses.
For Pleo users, this is definitely a product worth checking out. In Cameron's words: "Pleo and Superscript have a shared aim of simplifying traditionally tedious business operations".
So if you like Pleo, you're probably going to like Superscript.
Inside Superscript's Perks offer
Thanks to the generous people at Superscript, there's currently a sweet deal available to Pleo users.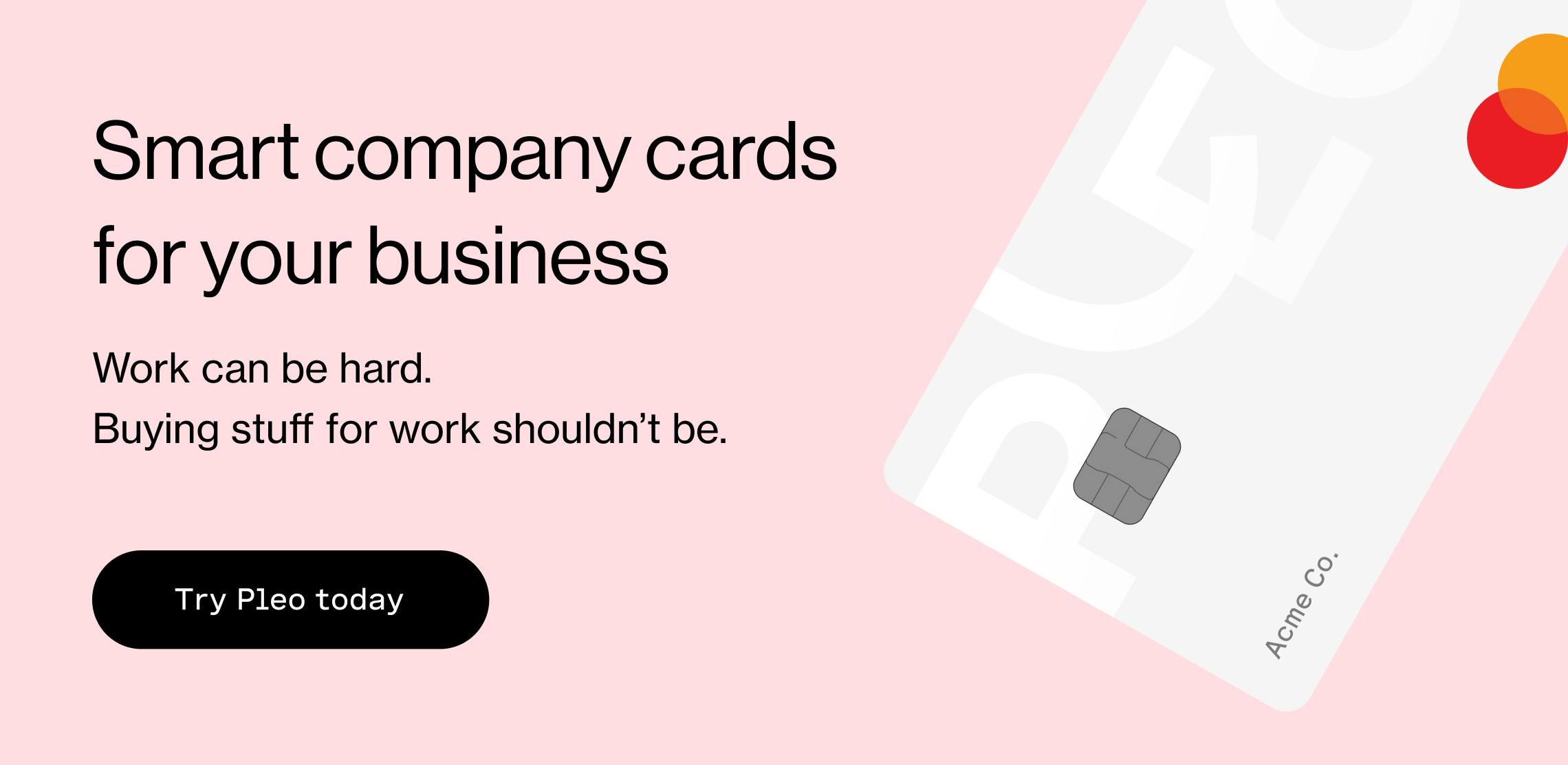 You might enjoy...
How do UK businesses feel about their invoice management process? We have the answers.

---

We're excited to introduce our shiny new Partner Programme, complete with new incentives and a far superior service for you and your clients...

---

Technology is revolutionising many everyday aspects of life. So it shouldn't be surprising that people expect it to also be at the core of h...

---
Get the Pleo Digest
Monthly insights, inspiration and best practices for forward-thinking teams who want to make smarter spending decisions