Pleo Update: March 2019 Product Announcements
As we're welcoming April (and spring) with open arms, here's a roundup of what we shipped in March and a sneak peek into what's coming soon.
See available funds and wallet balance
Since December of last year, employees have been able to see their available funds right from the expense view in the mobile app.
This was built with the aim of increasing transparency, removing the guesswork and ultimately reducing declined transactions due to insufficient funds.
While this has shown some promise and undoubtedly made the spending experience better for users, there was one particular case that was causing confusion for some.
Even if a user's company's balance was lower than their individual available funds, they would only see the latter on their expense view. Thus, seemingly inexplicable declined transactions due to insufficient funds occurred from time to time.
With the latest update, employees are able to see their company's balance on their mobile and web expense view only if it is lower than their available funds.
We hope this will finally put an end to insufficient funds declines! You can read more here.
3D Secure payments are here!
The Pleo cards are part of the Mastercard network, which means they are accepted in over 30 million locations worldwide – in-store or online.
That being said, there have been online stores in the past that didn't accept Pleo cards because we didn't support 3D Secure payments, which in short is an added layer of security and fraud prevention used by some online merchants.
However, after tireless work from our Compliance, Fraud, Product and Customer Success teams, we're thrilled to announce that we now support 3D Secure payments, and the feature should be live by the end of week 14!
This means fewer transaction declines and increased security for our users. Read more here.
Calling all accounting practices: become a Pleo Partner today!
The news is out! We've launched a brand new partner programme aimed at helping accounting and bookkeeping practices who want best of breed expense management for their clients.
The partner programme makes things as simple as possible for practices to help their clients change the way they spend.
Many practices are reacting to change by becoming hellbent on helping their client's businesses succeed – Pleo's partner programme is here to work alongside them.
What's in it for accountants?
Sounds good, but what do accountants actually get for becoming Pleo Partners?
Aside from happier and more efficient clients, here are some of the partner perks:
👉 Free lifetime subscription to Pleo to pay and manage company expenses efficiently
👉 Extended free trials to clients so they get a clear idea of what Pleo is before fully on-boarding
👉 Marketing support to help spread the word about your practice
👉 Education to help you become a Pleo expert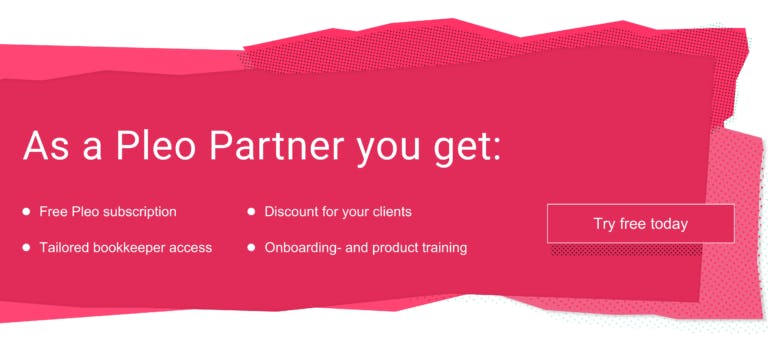 If you'd like to hear more about our Partner programme, head over to our Partners page.
You might enjoy...
We spoke to Luno to learn how the magic combination of Pleo and TravelPerk has removed the headache of business trips.

---

We've joined forces with TravelPerk to bring you the smoothest end-to-end business travel and expense solution.

---

Growth is good – it's what most businesses dream of. But scaling doesn't come without its challenges.

---
Get the Pleo Digest
Monthly insights, inspiration and best practices for forward-thinking teams who want to make smarter spending decisions