Year in review: Pleo in 2018
2018 has been a year of fast growth, fresh features, new faces, first accounting partners and a lot more for Pleo. Looking back, we've accomplished quite a lot. None of it would be possible without the support, patience and trust of our amazing customers. We can't wait to bring a lot more in 2019!
As the year is coming to an end, it's again time to look back and share some milestones and highlights that we have reached along the way. 2018 has been a year of growth for Pleo. Growing the number of employees to 80+, the number of companies using Pleo to 2800+, the number of countries where Pleo is available to 4 and the number of Pleo offices to 2.
What makes us especially proud is that our fast growth didn't compromise our focus on making our customers happy and successful. Our amazingly high NPS score, hundreds of 5* reviews on sites like Capterra. And that's not to mention the praises we receive daily from you, our customers, which fill us with pride and motivation – and show us that we are on the right path.
Looking back, we've also learned a lot this year and know that we still have a lot more to prove. This doesn't only mean delivering the features that our clients would expect from Pleo, but also going above and beyond to deliver more than what you would get from any company card or expense solution out there. And we can't wait to share those with you in 2019!
Pleo highlights of 2018
We raised $16M in a Series A round
We've made headlines and front pages on Reuters, Business Insider, Forbes (even the Japanese edition) and other news outlets back in May this year. Fun fact: Our $16M Series A funding round led by Kinnevik was the biggest Series A round in the past 10 years from a Danish company.
Redesign of the Pleo web app, mobile app and card
As you've probably noticed, Pleo mobile and web apps got big design uplifts (thanks to hiring some great new designers). We reimagined features like Tags, introduced Teams, integrated Pleo with various solutions to make company spending simpler and added a lot more context to company expenses with our new web expense view along with other smaller features.
The Pleo mobile app is optimised to make it easier to catch receipts and stay in better control over company spending on-the-go. Besides this, our plastic card design has been simplified, with a slick, anonymous front and the card numbers instead showing on the back.
A new blog and changelog
One of the things we want to get better at this year is communicating what we are building at Pleo. For this reason, we've relaunched our blog in both English and Danish (other languages coming soon) and started a changelog to keep our users updated more frequently.
Apart from the product-related updates, we will also start producing educational and useful content for people who are using Pleo. If you work in finance or operations specifically, watch this space, as we have some exciting stuff coming up!
Other things worth highlighting
There are many other things that we are very proud about like: opening an office in London (we're hiring!), starting our European expansion, launching an Accounting Partner Programme, becoming a finalist for the Xero Emerging Partner of The Year, launching Pleo Labs and much more.
Coming soon: Pleo 2.0
In 2019, our core mission of making company spending easier for everyone will stay unchanged. We believe workplaces, no matter big or small, deserve solutions that encourage and inspire culture based on trust and transparency, instead of overwhelming control and needless bureaucracy.
We receive a lot of requests of what to add to Pleo and we are taking notes. In our spirit of delivering "more than you expect" from a company card or an expense report solution, it's our aim for 2019 not to just deliver features, but instead to make the whole Pleo experience much better for everyone.
This is the year where we change from building a product that you know you want, to something that you didn't even see coming, but suddenly can't live without.
Internally, we're calling this project Pleo 2.0. At this time, we can't disclose yet what this entails, but you will soon see Pleo taking some big steps forward and be the first to know about them.
We're taking a quantum leap, and are looking forward to doing it together. Enjoy the end of 2018, and get ready for the beginning of something even bigger.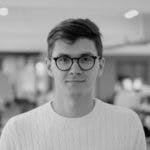 You might enjoy...
We're always working hard to build genuinely useful features, and we see these five as key to helping our customers optimise their spend pro...

---

How do UK businesses feel about their invoice management process? We have the answers.

---

We're excited to introduce our shiny new Partner Programme, complete with new incentives and a far superior service for you and your clients...

---
Get the Pleo Digest
Monthly insights, inspiration and best practices for forward-thinking teams who want to make smarter spending decisions
Powered in the UK by B4B partnership, available soon