You can now pay invoices with your Pleo card and Roger
We are very excited to announce a close partnership and direct integration with Roger, an app that helps you automate the process of receiving, approving and paying invoices with your Pleo card.
As card acceptance online is growing exponentially and we see companies paying everything from software, infrastructure, travel, supplies to even office rental through their Pleo cards, there are still types of company expenses left only to invoice payments or paper bills to be paid through a clunky bank transfer interface.
Thankfully, the amazing people behind Roger made a simple and useful app that enables you to pay invoices a lot easier by just taking a photo of the invoice or forwarding it to their e-mail. Roger deducts the payment from any card you insert and yes, it also works perfectly with Pleo cards too.
But it doesn't just stop there!
We've built a direct integration with Roger to make your Pleo card work better than any other cards for paying invoices, meaning you can finally have all your company spending in one place.
How Pleo and Roger work together
The integration between the tools is easy to setup and works seamlessly. When you connect your Pleo card to Roger, each invoice paid with the Roger app will instantly appear as a transaction in the Pleo expense view. The amount will be deducted from your Pleo wallet balance, receipt will be added and you will be able to easily push this documentation to your preferred accounting system with just a few clicks.
Connecting Pleo with your Roger account is easily done from our refreshed Integrations page with just a few clicks. We also created a step-by-step guide to help you get going.
If you don't have a Roger business account setup, enabling the integration will create you a new free account instantly. If you already have a Roger business account, the integration will just enable the apps to work together, but you will need to follow the simple instructions.
You can learn more about Roger business offering following this link.
Invoices, expenses, digital receipts, project tracking… all in Pleo
Making Pleo the one place for all business spending has always been our top priority. As companies today use a variety of different cloud tools to fit their various needs, it's our goal to make sure Pleo works easily with all of them and adjusts to all the custom workflows.
We started with connecting data and receipts flow between Pleo and accounting software to make bookkeeping easier, avoiding manual entries. This made the job of thousands of finance people using Pleo today, who used to spent days each month reconciling data from traditional credit cards, much easier.
Thousands of companies later, learning from the valuable feedback from our customers, we are aiming to make Pleo even more powerful. This means connecting it other tools companies use today like project management, different ERP systems and services like digital receipts, to build the future of company spending.
You can read about the first step in this direction in our next post about our integration with a digital receipts service Storebox.
Please note, that the Pleo and Roger integration is available only for our Danish customers.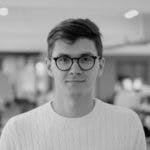 You might enjoy...
They say Rome wasn't built in a day. Neither was our tech stack.

---

We're always working hard to build genuinely useful features, and we see these five as key to helping our customers optimise their spend pro...

---

Your guide to understanding how Vendor cards can work for your business, saving you time and money when managing the digital services you re...

---
Get the Pleo Digest
Monthly insights, inspiration and best practices for forward-thinking teams who want to make smarter spending decisions
Powered in the UK by B4B partnership, available soon