The Pleo Academy: Kickstart your commercial career
Sales Development Representatives. Their main focus? Moving qualified leads down the pipeline. Making it easier for the rest of the sales team to have engaging conversations with prospects from the get-go. 
But it's not just about cold calling a bunch of numbers. An SDR needs to have excellent time management skills, a strong work ethic, active listening skills and endless curiosity and creativity. Capabilities that all roles can benefit from.
With Pleo entering more and more markets, there hasn't been a more exciting time to be part of the Sales team. 
To learn more about the ins and outs of the SDR function and its new initiative, The Pleo Academy, we jet off to sunny Lisbon and chatted with Pleo's Heads of SDR, Gruff Walton and Maryna Kashnova. 
Can you tell us a little about yourself?
"My name is Gruff (pronounced Griff) but I commonly get mistaken for "gruff" because of my name's Welsh spelling. I've been focusing on the SDR function at Pleo for about a year." 
"Usually based out of not-so-sunny Wales, I've made the jump to live in Lisbon and it's been good fun so far", says Gruff, Head of SDR - UKI & Nordics.
"Hi! I'm Maryna, a Belarusian with an Irish passport and currently living in Lisbon – the fourth country I've had the pleasure of living in", says Maryna.
"I'm leading one of the SDR teams, SMB and Spain – so building it out, making it interesting for everyone and developing all those people as well", says Maryna.
What are your main responsibilities as a Head of SDR?  
"As Head of SDR, a lot of my role and duties revolve around, at least currently, setting up the whole Lisbon project. From making sure that we have the right software and tools for everyone to be successful in their role, all the way through to ensuring that people are trained in the right way," explains Gruff.
"But, once this is all set up, my role will definitely look different in three months' time. Then it'll be much more management-focused." 
Ok, you've piqued our interest – what's this Lisbon project? 
"Pleo's had an SDR function for the last year and a half, with everyone physically separated throughout the countries we're currently covering. What we've realised is for us to have more of an identity and cohesion to this function, we needed to bring it all to one place in Europe", explains Gruff. "There's so much value in us all being in the same place and having that atmosphere." 
"The idea is for people to see each other, to learn from each other, to share best practices and to grow together," adds Maryna. 
Why should someone join the Pleo Academy? What does it mean for their career development?  
"This role doesn't exist solely for the business. Yes, we want to generate a pipeline and have this engine of individuals reaching out into our new markets and educating our potential customers. But this division isn't just you coming in and then leaving – this is a talent pool for the company," says Gruff. 
"When we look at hiring SDRs, we're not just looking at can they do the SDR position but could they move on to become managers or directors in marketing, strategy, sales and so on?"
"This is a great place to start from a junior position and develop quickly – Pleo is growing so fast that opportunities are unlimited," says Maryna. 
What do you love most about working at Pleo? 
"As cringe as it sounds, I'm really enjoying my time here," says Gruff, "I've always loved my job and what I do in sales and found my niche, but it's not until I joined Pleo that I found that missing piece of 'this is why I do it." 
"I'm highly motivated by the environment I get exposed to every day working at Pleo," says Maryna. "I get inspired by the people around me and really like that the focus is more on a team level than the individual. The eight-hour workday just flies by!" 
We're guessing the daily pastel de nata's and an average of 300 sunny days a year help a bit too. 
Ready to kickstart your commercial career? Then get in touch via pleo@earlycareerscompany.com or reach out to either Gruff or Maryna to learn more.
And here's a little bit of Portuguese to take with you: Boa sorte e mal podemos esperar ouvir de você!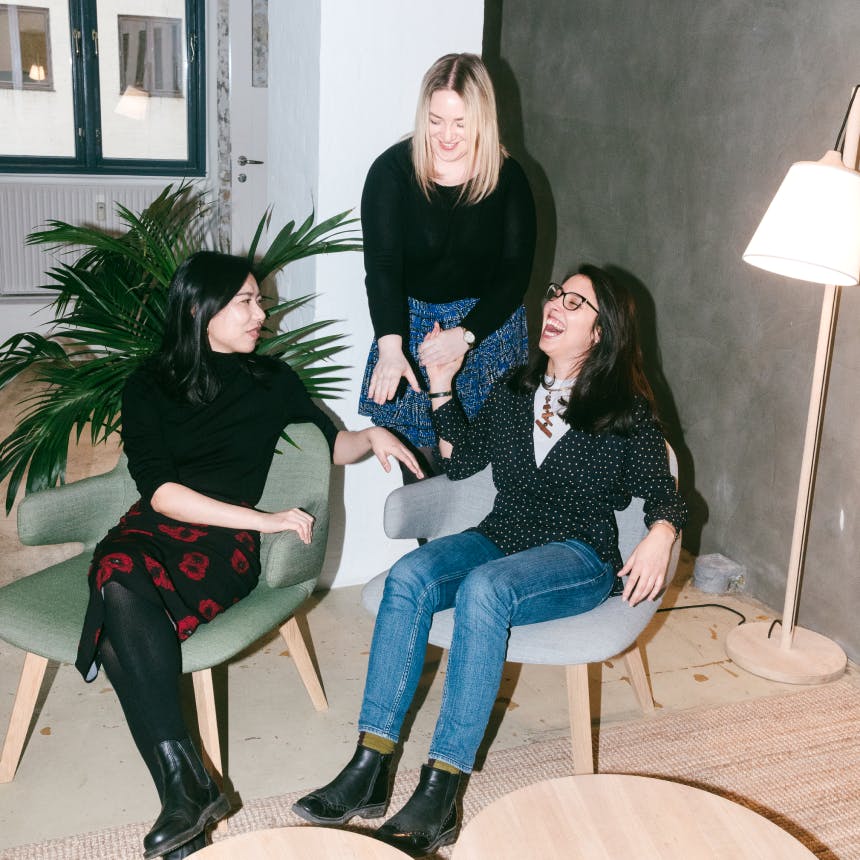 Want to know more about working at Pleo?
Learn more about how we hire, and the magical teams that make Pleo what it is today.
Take a peek under the covers

Content, demand gen and SEO professional. 5 years in the CPH start-up scene. Get in touch!
alicia@pleo.io
You might enjoy...
Launching in market after market isn't a one-size-fits-all process (or an easy one)! We caught up with Pleo's very own VP of Product Growth,...

---

We caught up with Adi, Pleo's Senior Product Researcher, to learn more about what it's like digging into our product and why Portugal is rea...

---

We caught up with Aimeé, Pleo's Product Director to learn more about life at Pleo and why now is the perfect time to enter the Netherlands.

---
Get the Pleo Digest
Monthly insights, inspiration and best practices for forward-thinking teams who want to make smarter spending decisions