12 accounting automation tools to kickstart 2023
How many times have you heard that something is "the future" of an industry? Probably a lot.
Robotic processing automation (RPA) has become a big trend across industries and shows no signs of slowing down. And for a good reason. 
According to the PwC Finance Benchmarking Report 2019-20, 30 to 40% of time can be reduced with financial automation. And check out this scary statistic from a Blackline study: 70% of global business leaders and financial professionals claim they made significant business decisions based on inaccurate financial data.
Keep reading to gain deeper insights into RPA, how it can be implemented and its benefits. Plus, browse through our top picks of accounting automation tools to kick off the new year.
RPA in accounting  
Put simply, RPA is software technology that makes it easy to build, deploy and manage software robots that imitate human actions interacting with digital systems and software. 
And not to get too geeky here, but these robots do everything faster and more consistently than a human can, no matter the task. From hiring and onboarding to retail management to finance and accounting. 
RPA solutions can run across many accounting and financial systems, eliminating most of the manual elements of an accountant's workday and doing them, well, automatically. 
Here are just some examples of what RPA in accounting can look like (we'll be diving deeper into these areas later on too):  
Client onboarding

Tax reporting

Expense processing 

Prepping of financial statements
Accounting automation benefits 
Accounting software isn't totally new – remember the 1970s? AKA the time of disco and the first accounting software? 
The problems that were aimed to be solved with the help of finance automation software haven't changed too much, while the tools have significantly evolved since then. 
Let's take a closer look...
How does automation help accounting? 
Generally speaking, accounting automation takes most aspects of an accountant's work day and does them almost instantly – doing the grunt work and number crunching for them. Making tasks that were previously complex and overly manual much more simple. 
Automating your accounting and financial process can also make it much easier to create reports, and provide insights and digestible analytics in just a few clicks. And because automation does this for you, you're left with more time for the stuff that really matters, like analysis and strategy. 
With manual accounting processes, human errors can happen frequently – let's not forget that scary stat at the beginning of this blog post... Nevertheless, the crucial task of analysing and interpreting data generated by the tool will always belong to the accountant.
Using software also allows for an accounting practice to expand its client offerings too. Automation gives you the tools you need to meet client compliance demands and potentially upsell them on some new services. Helping you retain existing clients and become more attractive to potential new ones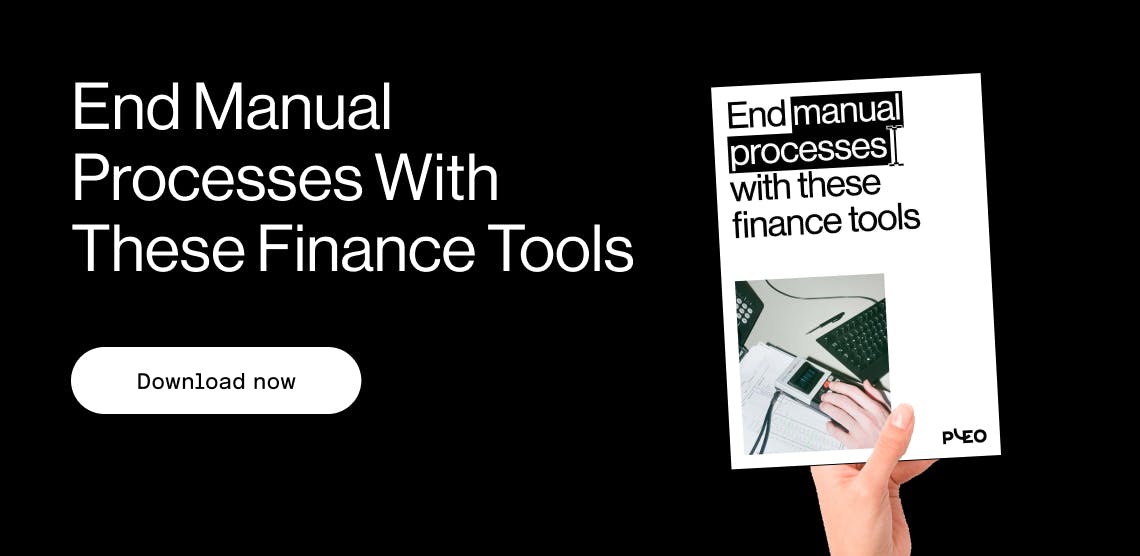 What accounting tasks can be automated? 
Here some of the daily tasks that your accounting team can start automating today: 
1). Invoice processing   
Invoices are a huge part of how businesses spend money, and without a proper process in place, can really swallow up time and create stress. With hundreds, maybe even thousands, of invoices coming in each month, it's highly likely that mistakes will be made if done manually. We're only human after all. 
2). Expense management automation 
This can easily be automated with expense automation software or RPA. From logging expenses to adding the right receipts to each expense to verifying that no important information is missing from any purchase. 
And it doesn't stop there – many expense management solutions integrate with the accounting software you already use, making exporting expense reports a breeze. 
3). Cash flow forecasting 
Management reporting and financial analysis software makes staying on top of cash flow easier, by providing digestible data on profitability and growth. 
Most tools have the data presented in an easy-to-use dashboard, which can be very handy if presenting to a client. An added plus – many integrate with the top accounting software as well.  
4). Payroll management 
It's super important to pay your people, or make sure your clients pay their people, on time. And depending on the business, this can even happen weekly. 
Managing payrolls includes tasks like scheduling for payments to go out, calculating the right amounts per contract and so on. Handling these tasks manually becomes tedious and accident-prone. 
Accounting automation tools can take care of most payroll taxes, like calculating holiday pay, annual bonuses and ensuring everything complies with local tax regulations.
5). Inventory management 
An important part of business accounting is inventory management and how stock items hold in a company's financial records – think balance sheets and P&L reports.
Lining up your inventory with the company accounts can be time extensive, especially for small or independent teams. Accounting softwares can help automatise and digitise this process by integrating with more comprehensive inventory management systems – giving you the best of both worlds 
6). Practice management 
Let's not forget about keeping that engine running! You can use a practice management software to automate the day-to-day comings and goings of your accounting practice too. 
Practice management software can be used to assign tasks to employees, set deadlines on projects, share documents and store client information. 
How do you automate an accounting process? 
It goes without saying that automating your accounting processes will have a positive impact on your business or practice, but the switch shouldn't be made overnight. It can be a big change. 
There are several steps you can take to make it straightforward and smooth: 
Step one - Take account of existing tools and processes 
Create a list of all the tools you have that affect your finance or accounting processes. This will help you discover tools you could swap out with accounting automation, where improvements are needed and where your main pain points are. 
Next, identify what daily tasks are highly repetitive, don't require a high level of human touch and involve a lot of mental energy – those are the perfect candidates for automation. 
Step two - Choose your tech 
Hate to say it (but not really) – Excel cannot be the core of your accounting process. Take the time to evaluate the accounting systems out there that will lay the foundation for your accounting process overall. Test the tools but also pay close attention to the integration offerings each one has, how do the apps "talk" to each other? 
Step three - Identify and test additional automation 
Once you've landed on an accounting system, identify additional automation tools you think your accounting process would benefit from. Take the time to test these tools out – you may find that some don't work exactly as you thought or aren't quite what you were looking for. 
Step four - Monitor your new accounting process 
Accounting system and additional tools decided upon, it's time to roll out your shiny new automated accounting system to the team. For the adjustment period, it's best to assign a stakeholder to oversee the process, answer any questions and listen to feedback.
Our top 12 picks for accounting automation tools
Here are our top choices for accounting automation tools for 2023:
This is a solid starting point for automating your accounting processes. QuickBooks offers simple online accounting so you can organise your business finances in one space, from expenses to taxes to payroll.
You can easily sync your favourite business apps, and people are raving about their customer support too. 
Pssst! Pleo has a direct integration with QuickBooks to export all your spending data in just one click.
An excellent choice for laying the foundation of your processes if you're just starting out.They offer a free version that supports simple bookkeeping with an easy to use app and ecosystem. Making tax time and staying on top of cash flow a breeze.
And if that doesn't convince you, G2 recognized this tool in the Top 50 Finance and Accounting Products of the Best Software Awards for 2022. 
One of the more popular choices for accountants and small businesses is Xero. It's "designed to make life better for businesses and their advisors and help them grow and thrive". It's easy to see why. 
A key feature we'd like to point out is the "Single Ledger" aka the single data set that both the business and you as a bookkeeper or accountant can work from. This means you're both seeing the same set of data at the same time, which is key when growing a business. 
Pssst! Pleo has a direct integration with Xero to export all your spending data in just one click.
Managing payroll always comes with its challenges, no matter how advanced your finance or accounting team is. 
Pento is a cloud-based payroll system that automates everything from tax calculations to HMRC payments. Its system allows for everything to be done in minutes, with clear overviews of all your staff, the hours they've worked plus their earnings. And you'll know just how much is leaving the company account on payday.
Audits are complex, so why not use a digital tool to lighten the load?
AuditFile is a cloud-based solution with top-notch security that helps accountants, as well as internal accounting teams, perform efficient audits, reviews, and compilations. Track a business's metrics from top to bottom, easily generate a financial statement, and more.
Another well-known accounting automation tool used by businesses of many sizes and across industries is Sage. With a quick and simple set-up, this tool is a great choice for businesses or freelancers that need the basics of accounting, like invoicing and bill tracking at a decent price. 
Plus, G2 recognised the platform in the Top 50 Commerce Products of the Best Software Awards for 2022.
Pssst! Pleo has a direct integration with Sage to export all your spending data in just one click.
Whereas Xero and QuickBooks have small to medium-sized businesses more top of mind, NetSuite is built for larger, scaling companies. It's rated as one of the top ERPs (enterprise resource planning) tools out there. With real-time insights, streamlined processes, and a 360-degree view of performance across the business, this platform also integrates with many other key tasks of CFOs.
Of course, it automates and streamlines core accounting responsibilities, but the full package includes HR and admin software, supply chain management, sales, and CRM activity.
But, this does make the solution pretty complex and requires dedication and time to get up and running properly.
(Remember that statistic in the introduction? 70% of global business leaders and financial professionals claim they made significant business decisions based on inaccurate financial data) With a focus on midsize companies, BlackLine is a smart choice if you have ambitious growth goals in the near future and are looking for efficiency. 
 This self-described "modern accounting partner" provides flexibility, security and scalability as your company grows by eliminating manual work with automatic month-end reconciliation, including credit card spend. 
The task management feature also gets a good of amount shouts on the solutions G2 profile.
Another market leader in cloud-based accounting software, Freshbooks.
Freshbooks allows you, the accountant, the bookkeeper, or tax professional to be the expert and optimises your client workflows. Allowing your focus more on that advisory role, nurture your client relationships and nurture your practice features like professional invoicing, time and project tracking and automated payments.
And it's even nabbed the top spot on G2's easiest accounting software to use list.
Maybe you're asking yourself what's the best way to connect all these tools to ensure your accounting process is running smoothly across all platforms – good thing there's Zapier. 
Zapier moves information automatically between your apps, with no coding required. You can even build your own workflows so you'll never miss, say, an important document that's attached to an email. You can use the tool to set up a workflow where Gmail attachments are automatically synced to DropBox, and then a notification pops up in Slack. Just like that!
We know the tools that give us a snapshot of our company finances, but what about a snapshot of the accounting team?
Karbon provides a collaborative workspace to manage workflows and communicate across teams to ensure you always deliver exceptional client work. 
With its dashboard, you can track the progression of each task and easily identify any possible bottlenecks. You can also create workflow templates, to ensure processes don't break and the quality of your output isn't affected by growing teams. And admin work is automated, so no future client jobs slip through the cracks.
(Not to blow our own trumpet here) Pleo automates expense reports to streamline the entire business spending process, from the moment something is purchased to it being reconciled in your accounts. 
Accounting practices can empower their clients with smart company cards, and as a result, there's less paperwork, less back and forth and less end-of-month stress. You can also use Invoices, an invoice management system that allows you to track, pay and account for every bill your team receives – at no extra cost. 
And our Partner Portal had a glow-up recently too ✨
The impact of automation on the future of accounting 
It's easy to find whitepapers and articles asking the loaded question: "Is accounting a dying career?"
Not only is that a wee bit dramatic, but it's simply not true. Automation in accounting should be thought of as more of an evolution, allowing accountants to gain even more opportunities from their efforts.
It's exactly why the software was built! It would be a shame not to use it.
It's important to future-proof your accounting career and (or) practice by working with automated tools in order to provide the best service possible. Use the extra time that you've gained by automating the more menial parts of the job and show your clients why your relationship is crucial in allowing their business to grow and succeed. And make sure you use some of that time to look internally and identify opportunities that you could work on at your practice too. 
So, why not start 2023 with a bang by implementing one (Heck, why not all of them? Just joking. ) of the accounting software tools in our list and get a jump start on some of those new year's resolutions?
Happy automating!
Boost your practice today
Effortlessly integrate with Xero, Sage, Quickbooks and more, and wave goodbye to piles of paperwork and end-of-month stress.

Content, demand gen and SEO professional. 5 years in the CPH start-up scene. Get in touch!
alicia@pleo.io
You might enjoy...
With Pleo, you can empower your clients with Pleo's smart business spending solution, creating less paperwork, less back and forth and less...

---

According to Jo Copeland, Xero Director, there are five obstacles that leaders need to overcome if they're to thrive in this new world.

---

Whether you need a bookkeeper to help tidy up your accounts, or you're looking to digitise your finance stack, there's an accountant for you...

---
Get the Pleo Digest
Monthly insights, inspiration and best practices for forward-thinking teams who want to make smarter spending decisions
Powered in the UK by B4B partnership, available soon