Financial technologies: A complete guide to the CFO tech stack
Tech stack? Fintech?
If you're scratching your head, you may want to consider taking the time to update yourself in this space. And for good reason –  nowadays, there's a whole range of resources to get rid of the most repetitive tasks, leaving you to lead your company strategically as a CFO. You just need to know where to start. 
And that's what we want to help you out with today: a list of the current fintech technologies you can get your hands on. Everything you need to know to build a fully-fledged financial tech stack. 
A few key terms to cover before we get started:
Fintech comes from finance and technology; simply put, it's technology applied to the financial world.
Tech stack refers to the set of financial tools that financial professionals should have in their day-to-day life; i.e. fintech tools.
Got it? Nice, let's dive in. 
The CFO: A driver of the financial technology evolution
As the Chief Financial Officer of a company, the responsibility of driving financial innovation and use of technology to make better strategic decisions sits with you. 
Every financial leader needs to be aware of the technological resources available to alleviate the manual workload, so they can focus on being a strategic business partner for the company. 
This isn't to say that staying in control of the company's accounting is no longer part of the job. But it shouldn't be taking up the majority of your time. Your time can be better spent analysing data and making important decisions to help steer the business. That's where fintech technologies come in.
But we get it; there are a lot of financial tools out there. If you haven't started building a tech stack or are feeling a bit lost with where to start, keep reading. But first, let's cover the benefits of fintech, just in case you need a little more convincing. 
The benefits of financial technology
Still not convinced about hopping on the automation train and starting to build your fintech stack? 
Let's run through some of the ways that financial technologies can improve your processes. 
Fintech improves efficiency and reduces costs
Technology brings about process automation, which means time saved for everyone. Remember when accounting meant handwriting down entries in ledgers? 
With the emergence of digital transformation, accounting is automated, which saves countless hours of time for both the finance team and its manager.
And you know what they say… time is money. 
Not only that but accounting automation eliminates human error... which brings us to the next benefit.
Fintech makes human errors disappear
If the main source of errors, aka manual entry, disappears from almost all financial processes, that means you can wave goodbye to all the different mistakes that can crop up from human error. See ya calculation errors. Adiós reporting errors. Sayonara inaccurate financial data. 
And with all that behind you, you're also saying goodbye to the huge amount of time detecting and fixing those errors. Time that everyone can spend on work that's more profitable for the business.
Fintech also helps you manage your treasury
How many times have you felt blindsided discovering your cash flow wasn't as healthy as you thought it was? Or how many times have you had to get creative in order to get all your expected payments out the door?
The right fintech stack fixes classic cash flow problems and inconveniences. For example, with its real-time reporting, you can make better decisions before it's too late. You can also anticipate expenses and income better because you have up-to-date information and financial data analysis tools to visualise and interpret it in a matter of seconds.
Fintech helps you make strategic decisions
In addition to saving you time and frustration when it comes to helping manage your treasury, financial technology goes further and helps you with your ultimate goal and most important task as a CFO: making strategic decisions.
Having the right fintech stack becomes a strong ally when it comes to offering guidance on which paths to take. It does this by providing you with real-time information and the means to visualise and analyse all your financial data so that you can provide the business with all the information relevant to set the right strategy. 
Building your financial technology stack: types of fintech solutions
Now let's talk about actual tooling. What can financial tech do for you? What's missing from your tech stack? 
Let's take a look. Here are a few types of fintech technologies available:
#1 Digital payments
Let's start with solutions that enable digital payments and collections. Digitally paying for and managing purchases has become pretty standard, but that doesn't mean it's been with us for very long. 
In fact, many companies used to pay for things by making transfers from the bank itself, sometimes even in cash. Can you imagine?
Now with digital banking and some specialised financial tools, you can make transfers between accounts and electronic payments and collections from your desktop and even smartphone.
And mobile wallet payments are used daily. Cryptocurrencies continue to increase in digital media, as well as in physical media, as there are debit cards associated with portals where crypto assets are bought and sold.
#2 Loans and alternative financing
With digital banking, you've got your old-fashioned loans covered. You can of course still go to the bank and ask for it, but the digital way is already a reality: in a matter of minutes, you can submit the application to the bank. Easy.
And if you don't feel like applying for a loan with traditional banks, there are now alternatives to financing. 
One solution is private companies that grant loans under conditions that are more advantageous than traditional banks.
Another option is crowdfunding platforms, which connect companies in search of funding with small investors looking to monetise their modest capital contribution.
#3 Accounting automation
Maybe your business is secure in its funding, but all businesses can be more efficient with their time, especially when it comes to accounting. You can't skip the kind of financial technology that saves hours and hours and hours of accounting work at the end of each fiscal month or year.
Invoice management, manual data entry, calculation of taxes to be paid, accounting statements, books... You do the maths.
Luckily, there's accounting automation. Simply put, accounting automation is the process of entering the data and having the accounting done by the financial software of your choice.
That's to say, the data dump is up to you, but the final result is done automatically by a tool.
Lovely stuff. 
But it gets even better. You can also automate the data dump so that you don't have to enter anything by hand. 
With the use of some fintech applications, when your team buys something for work, instead of saving the simplified invoice or receipt and filling out the expense report, they take a photo of the purchase through the app… et viola! The expense is already accounted for.
This may not seem to be a huge deal, especially if you're a company with less than 10 employees, but imagine the paperwork if that number continues to grow.
#4 Digital banking
Traditional banks have also signed up for this fintech thing. As it only takes a few minutes to request loans for your company from the mobile app or website of the bank in question, it's easy to see why. 
You can also send transfers, pay bills, download data for bank reconciliations... a little bit of everything.
More than a cutting-edge solution for your financial stack, digital banking is an essential day-to-day tool for every finance team.
After all, it's their accounts that your company keeps its cash in, isn't it?
#5 Financial management
Fintech also offers solutions in terms of financial management. We're referring to managing finances, tracking expenses, budgeting, and meeting financial goals. Just to name a few. 
These solutions can come in the form of digital banking (there it is again!) or as an application with specific functions, ranging from consultation to payment execution, including tracking.
There also is a very wide range of applications and solutions that allow employees to make payments and manage their balance sheets and budgets.
These are ideal solutions for managing a company's expenses – a great example of the power of fintech. But let's not get ahead of ourselves, because we'll tell you more about that in a moment.
#6 Blockchain
First things, first: What is blockchain? 
It's not a type of financial technology per se, but a core technology capable of recording data and transactions in the form of a network without relying on a central body. This technology can be used to make payments or shipments, for example, and eliminates the financial risks inherent in centralised systems and increases the speed of transactions, while also ensuring that they are recorded.
Transparency, security, efficiency and financial cybersecurity all in one. 
With that premise, imagine what blockchain fintech can be leveraged for: to make international payments without putting financial data protection at risk, investments in crowdfunding campaigns, loans between individuals and ensuring regulatory compliance.
#7 Regtech
There's nothing like regtech for financial regulations and compliance. Technically, it's technology applied to another sector, but it is useful to CFOs, because... Oh, compliance!
Regtech refers to technological solutions that help institutions and companies to comply with current regulatory requirements efficiently. They do this by monitoring actions and data, producing reports automatically and verifying that everything is in fact within the legal framework.
Essentially, it's the ideal fintech to avoid violating regulations and incurring annoying penalties.
#8 Insurtech
And the last on the list is insurtech, in other words, technologies that use digital innovation to transform and improve the insurance industry. These are not fintech either, more like relatives, but they provide a more comprehensive view of how technology is comprehensively transforming today's financial landscape. 
Insurtech solutions can vastly improve the customer experience and streamline claims processes. In order to mitigate the risk of loan default, your company could use insurtech technology to:
Assess risk, by analysing variables such as credit history, income, employment, etc.

Customise insurance based on the above assessment.

Use smart contracts to protect payments

Provide a simple platform for your customers to apply for or defer loans, or get payment protection insurance using artificial intelligence
#9 Artificial intelligence in finance
We wrap this list up with the famous AI in finance, another core technology, just like blockchain. But how can you take advantage of it?
Think of it as a unique resource to use and something that, when integrated with other solutions, can give you a lot. Here's a short list of what AI in finance can produce or help out with:
Historical financial data analysis and making predictions 

Financial advice with robo-advisors

Fraud detection and security breaches by identifying anomalies in financial transactions

24/7 customer service with a chatbot

Automation of processes of all kinds: invoice processing, risk assessment, real-time financial reporting… the list goes on! 
In fact, AI is part of many of the fintech solutions listed above.
Pleo: Fintech that helps companies go beyond the books
Now you know what types of financial technologies exist in the market. And maybe you're starting to think about which ones you need to add to your financial tech stack. 
Could we make a suggestion? Pleo. 
Pleo is the spend management solution for controlling your company's expenses. It allows for independence and autonomy to your team, saves a lot of time in accounting, makes expense reports a thing of the past and reduces human errors. 
Not to mention, it also has a dashboard for you to visualise business data in real-time.
Sounds familiar, doesn't it?  
There's no better way to start building your stack than with an all-in-one fintech app. Give it a try today.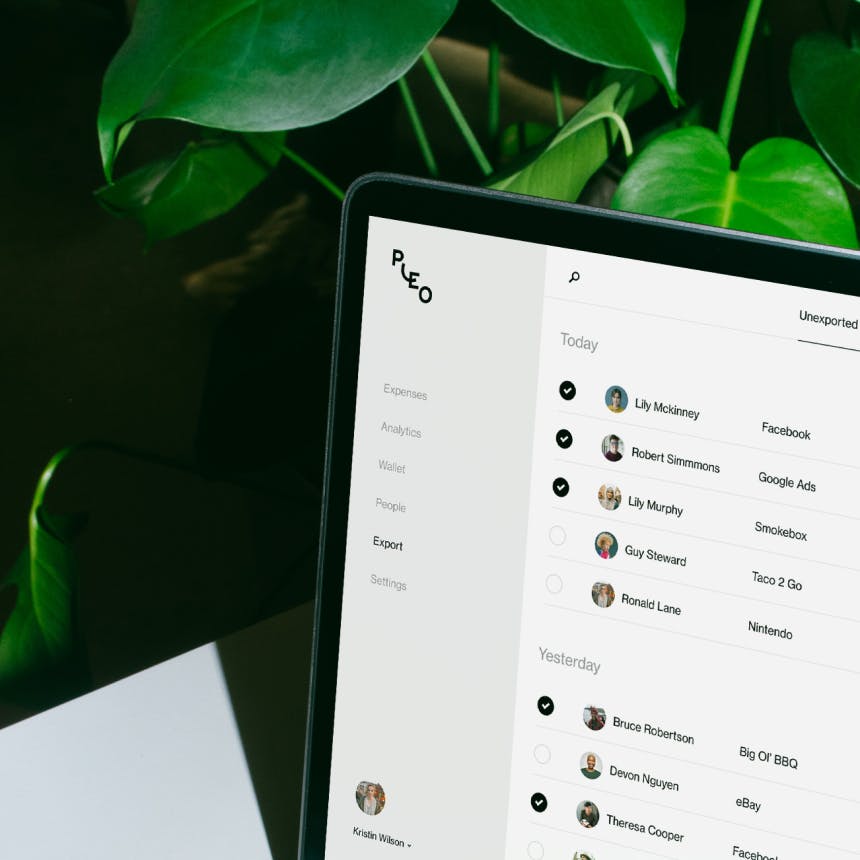 Expense reports? In the 21st century? No thanks!
Step into the future with Pleo. Smarter spending for forward-thinking teams.
Book a demo

Content, demand gen and SEO professional. 5 years in the CPH start-up scene. Get in touch!
alicia@pleo.io
You might enjoy...
While finance and IT are two very separate wings of an organisation, they're two key pieces of the puzzle.

---

Upskilling isn't just about getting that promotion; it could mean career survival (or not).

---

Find out which technologies your finance team should be championing to make the most of your company's money.

---
Get the Pleo Digest
Monthly insights, inspiration and best practices for forward-thinking teams who want to make smarter spending decisions