How Pleo hires: From your application to your first day
Get butterflies in your stomach before an interview? You're not alone.
Since 2015, our team have been feeling those butterflies every time we speak to a candidate for a role in Pleo.
That's because we try our best to find the right people, whether that's a new developer, a CX specialist, a Product Marketing whizz or an Account Executive.
A chance to celebrate
We're always excited to talk about hiring and onboarding (in fact we wrote a whole book on these topics) but first, a quick catch-up on why we're celebrating right now.
It's very cool to say that some of our earliest hires are still here, while naturally, some others have left to pursue their own adventure.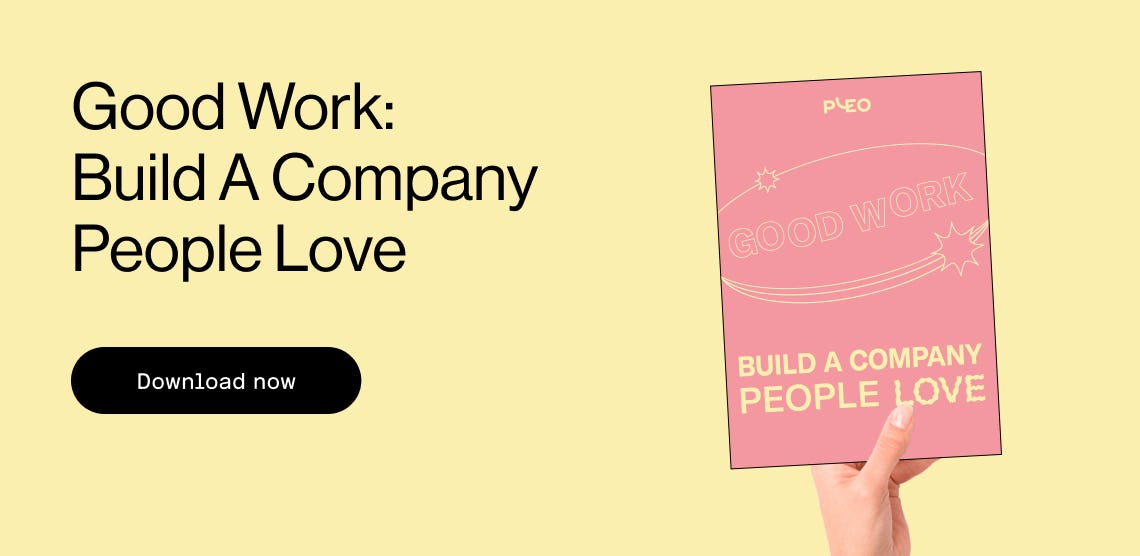 We're really grateful to everyone who's been a part of the journey up to now.
Bricks is how we "do" onboarding.
Every Pleo hire – be they full-time, part-time, student worker or full-time remote – takes part in the same sessions that introduce you to what Pleo is all about.
We're really proud of how it's evolved, especially with the feedback continually showing that the "friendly", "energetic" but "detailed" programme helps people find their feet with us.
And the programme has survived some testing times. When lockdown hit, we took Bricks online and got a little creative in how we welcomed new starters – still today we have Pleo'ers joining remotely every month and we do our very best to ensure they have the best possible remote onboarding experience.
How we hire
If building a fast-growing team and launching Bricks has taught us anything, it's that transparency goes a long way in making new signings to Team Pleo.
So we'd love to lay out what you can anticipate if you spot a job that looks cool and want to apply.
(It's probably a good idea at this stage to say that not every candidate goes through the exact process below. Time pressure, business necessities and role dependencies can mean that things change a little bit and some steps get mixed up. But we promise we'll bend over backwards to give you the best possible experience.)
1. The first call
We get a lot of applications. Which is great, of course, but means we need to do a bit of homework before deciding who stands out.
So, we start off by running through profiles on our end and pick those who we feel would be a good fit for a quick call. On this call, you'll speak to either the hiring manager (the team leader overseeing the process) or someone from our Talent team.
On your side, you will hear more about Pleo and see if we're actually an exciting company for you.
💡 Our advice:
Think of this as having a coffee with a potential teammate. This is not a one-way audition, it's equally important that Pleo is a good match for you, your needs and expectations. 
So take a breath and be yourself. That's exactly who we're looking to meet.
1.5. A hiring manager check-in
If, indeed you had your kick-off call with someone from our wonderful Talent team, don't be surprised or alarmed if you're invited in for a quick get-to-know with the hiring manager too. If indeed this step is outlined, it'll give you the chance to ask more team and responsibility-specific questions with your potential future manager.
Lastly, this step could also be wedged in as a 3.5. step following the Team interview, outlined below.
2. The challenge
Nervous? Don't be. There are no right or wrong answers here. The Challenge round offers candidates a chance to show off what they're bringing to the table.
Each team has a different task, designed especially for the role that's available. So you might be making a mock sales call, creating a draft storyboard or sketching out plans for a new Pleo feature.
We don't set a strict deadline for you to complete and send back the challenge. But we can give you a heads-up on how long the challenge should take in our initial call – and we're only an email away if you need to check in.
This stage is a chance for you to show us your problem-solving skills. It's also our way of showcasing the types of scenarios you'll find yourself in should you join the team.
💡 Our advice:
Most of our challenges are open-ended with no objectively right or wrong answer. Instead of assuming what we'd like to see, we encourage you to approach the challenge as if nobody was reviewing it. We'd love to see something that's 100% you.
Of course, the challenge won't cover everything, but it does give us a really clear idea of how you approach work and communicate your thinking.
3. The team interview
Now, in your mind, fast forward two months. Imagine you have joined Pleo and are sitting with your new team, ready to tackle things IRL... Well, that's what the team interview should feel like.
Expect to share a meeting room (real or virtual) with 2-3 people that you'll be working with if you get the job. These might be on the team you want to join, or from another Pleo department altogether, either way, they'll have a keen interest in finding the right person.
There'll be some chat about your challenge, your experience, your responsibilities – but also a definite chance for you to find out more about Pleo.
What's great about working here? What projects make people proud? What are we working to improve?
💡 Our advice:
Show us your way of tackling the job with the hard and soft skills needed. We love seeing how you'll work with us and how you'll also bring something new to our team.
We're always changing, growing and learning as part of work here – we want to see that you're just as eager to learn. Don't be afraid to challenge our current way of working. 
4. Values interview
Only a handful of people get to this stage, so congratulations.
This is where you get a bit of face time with somebody senior in the company, but don't be daunted. For a lot of candidates this is a really fulfilling session where you see the big picture for Pleo and chat about how your role will figure into that.
And for our part, we'd love to see that you embody the right values and would contribute positively to our culture.
💡 Our advice:
Think about your values and how they would match ours. What matters to you? Our team members are very easy to talk to, all the way to the top. So, and yep we're going to say it again: Be yourself.
If everybody's onboard at this stage, we might be in touch with an offer. If that's the case, you're just one final "yes" away from joining the team.
Why we hire like this
The nature of the modern workplace is changing so fast.
We believe it's important that the hiring process keeps up with it, because it's clearly a vital step in building a company that people love.
If this post has got you interested in joining (or more interested than you already were) you can find out what opportunities we have on our careers page.
Good Work: Build A Company People Love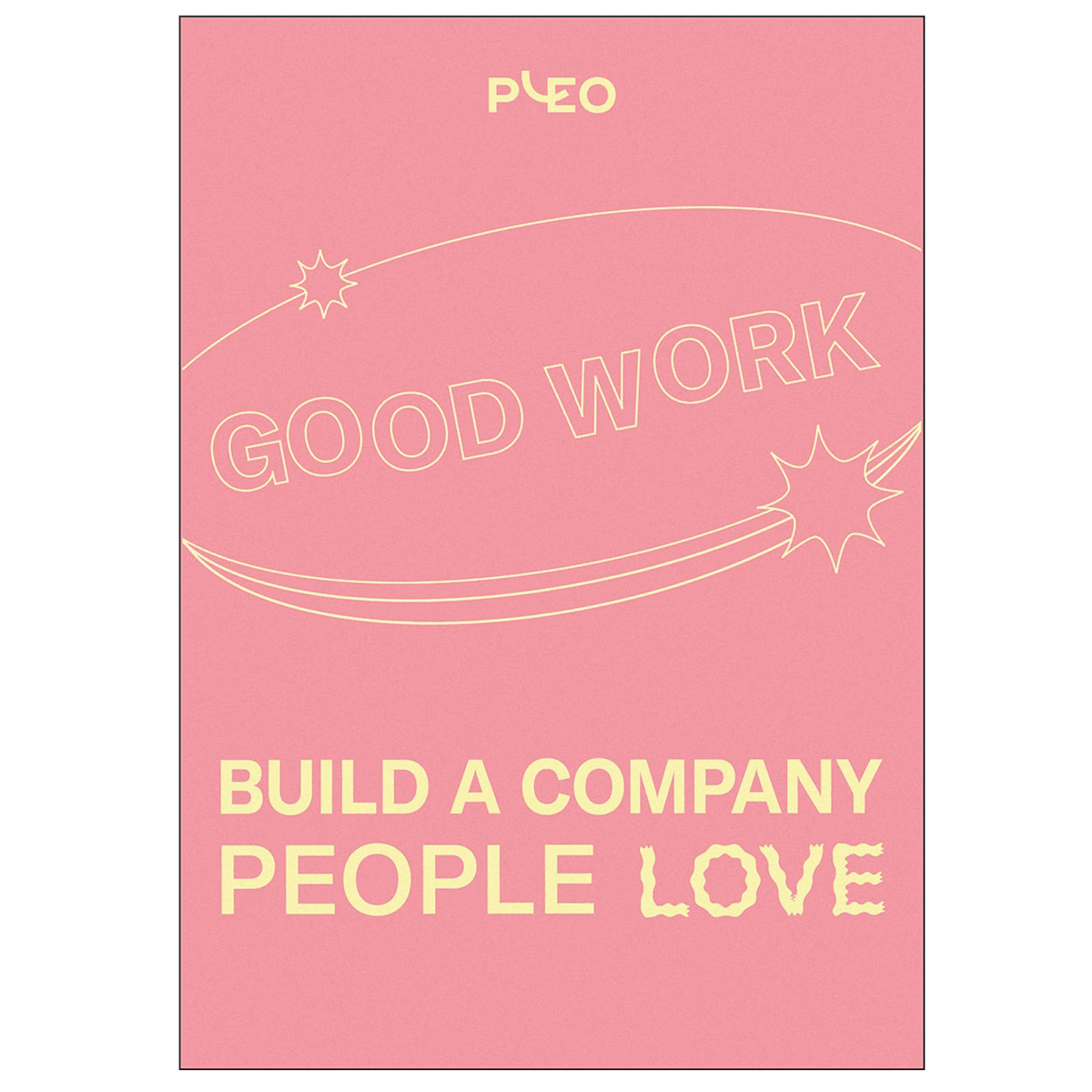 You might enjoy...
Curious how per-diem works in the UK? The how, when and where the HMRC meal allowance rates apply.

---

Expense management for small businesses: we're talking automated expense tracking vs. manual.

---

We caught up with Clara, one of our International Product Managers to learn more about all that goes into entering a new market, and why now...

---