We've just raised $150m in Series C Funding to revolutionise business spending
Yes, you read that correctly: $150 million — the largest Series C raised for any Danish-headquartered company ever.
With this new investment and our company valuation of $1.7 billion (we're one of those unicorns you keep hearing about), we've never been more excited to see what the future holds for Pleo and what we'll be creating with this investment, but more on that later…
First, let's take a trip down memory lane. Since launching in 2015, we've come a long way. From opening up offices across five other markets in Europe to winning local, national and global awards to growing the Pleo team to 330+ people to launching features such as Reimbursements and Bills — it's tiring just writing it out. 
What will we be doing with this investment?
First and foremost, we'll be taking this investment as an opportunity to scale our company.
Over the last six years, we've grown Pleo from an acorn of an idea to a workforce of over 300 people based all around the world — without the team, there's no Pleo. We're on a mission to transform business spending and make everyone feel valued at work. If that floats your boat, check out our Careers page and apply for any of the 30+ roles we have open today.
On top of hiring, we want to take that investment and ramp up the Pleo product offering for you – our committed Pleo customers. 
We'll be building on our existing features and making them even stronger, as well as deepening our market-specific offerings. We can't wait to get started – that's why we already have. Just take a look at our recent revamps to our reimbursements functionality, Pleo Pocket. 
Lastly, we'll be spending more time and investment looking at market expansion, whether that's opening new territories, or doubling down on the six markets we're in today. Offering truly local-first solutions so we can "win where we play".
Let's hear it for our investors
This Series C round is co-led by Bain Capital Ventures and Thrive Capital, with contributions from investors who have been with us from the beginning: Creandum, Kinnevik, Founders, Stripes and Seedcamp.
Not only are we excited about the doors this investment is opening, this new chapter means we get to work with some really inspiring people…
We're thrilled to announce that Keri Gohman is joining Pleo's board of directors. Gohman is a partner at Bain Capital Ventures and has been named one of the most influential people in accounting. With more than two decades of experience, Gohman has spent her entire career reinventing financial services and helping organisations solve global challenges. That's impressive. 
"The future of work empowers employees with the tools they need to be effective, productive, and successful," Keri says. "Pleo understands this critical shift for modern companies toward employee centricity—providing workers with a fun-to-use spend management app that automatically tracks their corporate spending and generates expense reports, paired with the powerful tools businesses need to create full visibility and management of every penny spent."
And we're in good company. Bain Capital Ventures has invested in the likes of GoCardless, LinkedIn, Lime, and even Burger King. Last month, they also raised $1.3 billion to fund young startups and VC firms.
Alongside this, Thrive Capital, a New York-based investment firm, also has an impressive portfolio — they've invested in both Unity and Stripe.
This investment comes just two years after our Series B round, led by Stripes, which saw us raise $56m. Fun fact: this is the largest Series B round raised in Denmark to date.
Back in 2018, we raised our Series A of $16m, which helped us scale across Europe. The world really is our oyster… 
A huge thank you to our 25,000+ customers
It goes without saying, we wouldn't be where we are today without you, your support, your feedback, your trust. 
Since day one, we've been committed to creating a spending solution that encourages a work culture built on trust and transparency, instead of overwhelming control and needless bureaucracy.
As with every investment round, this is just the beginning. It takes a village to fix an age-old problem, and we're only just getting started. Want to help us out? We're hiring for a whole bunch of roles across all our markets, from engineering to marketing to design — we can't wait to hear from you. 
Want to know more about working at Pleo?
Learn more about how we hire, and the magical teams that make Pleo what it is today.
Take a peek under the covers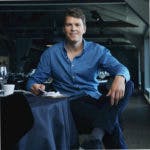 When I'm not building Pleo, I'm an angel investor in start-ups in Europe and the US, an advisor to private equity funds and portfolio companies, or on a stage speaking at international conferences.
You might enjoy...
How do UK businesses feel about their invoice management process? We have the answers.

---

We're excited to introduce our shiny new Partner Programme, complete with new incentives and a far superior service for you and your clients...

---

Technology is revolutionising many everyday aspects of life. So it shouldn't be surprising that people expect it to also be at the core of h...

---
Get the Pleo Digest
Monthly insights, inspiration and best practices for forward-thinking teams who want to make smarter spending decisions