6 ways to boost finance and accounting efficiency
There's a huge amount of thought leadership on the topic of improving efficiency, with new stats thrown around every day.
That's not surprising: Making your business processes more efficient leads to higher productivity and improves employee satisfaction by reducing stress. 
It's an obvious win-win, but with so much conflicting advice out there, it can be overwhelming.
So, we've dug through the clutter to discover some top tips that can be adopted quickly. But on top of that, we sought out practices that can be implemented alone – or together. 
Take a look at our short (but impactful) list – and decide what would work for your accounting and finance teams.
1. Leverage the latest tech    
One of the easiest ways to shake up your finance and accounting processes is to upgrade and switch to automatic solutions. If you're still relying on manual books and ledgers to track down and record financial data like expenses, then you're wasting valuable time. 
One survey found that employees spend an average of 520 hours per year on repetitive tasks that could easily be automated. And there really is no reason for that anymore, especially with the explosive innovations in the fintech industry. 
These tools allow you to easily input data, perform calculations and enjoy a significantly higher level of accuracy than if your finance and accounting departments relied on manual reporting. Tools like Fluidly, helping businesses effectively manage cashflow and BrightPay, a modern payroll and auto enrolment software package. 
And there are countless ways fintech solutions can automate your finance and accounting processes, from capturing receipts in real-time to managing payroll to paying invoices in a snap. 
And the best part? Fintechs aren't just making a product, they make true solutions. 
These companies are all about keeping up with and anticipating their customers' needs. Feel like your PO software is missing something? You can let the company providing the solution know and they'll work with you to build something that suits your needs. Because chances are, you're not the only one asking for it. 
It means you're shaping the perfect solution for your business. And we're speaking from experience here. 
Breaking free from manual data entry allows your money people to focus on much more important things like assisting top-level management in making investment decisions or analysing financial trends.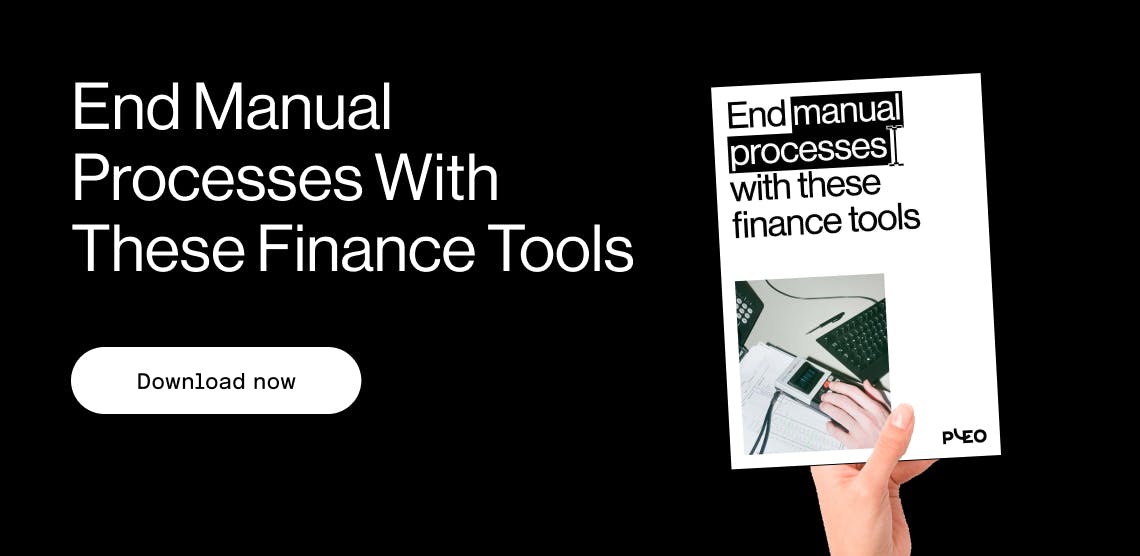 2. Get a smart company card – for everyone 
Nothing mind blowing here, but it's surprising how many companies still don't have cards that employees can use to buy things for work. 
Processing purchases can be extremely tedious if you're working with piles of receipts or logs delivered by each individual employee. That's especially true if you're a smaller company or start-up that doesn't have a comprehensive accounting system set up. 
Instead of wasting time on collecting and processing paper receipts, as well as chasing people for their expenses at the end of the month (it happens!), provide your employees with a smart company card like Pleo. Our app catches receipts on-the-go and provides a spending overview so you can see all company expenses in one place, in real-time. 
The time and money your finance and accounting teams will save from this is nothing to sneeze at. 
 3. Use batch processing
A business handles a multitude of transactions each day. Processing each invoice as soon as it arrives is not ideal. Each time someone from your finance or accounting team stops to process an invoice, they lose time on other tasks. 
Batch processing can be carried out at any time, but is best suited for end-of-cycle processing. It helps with tasks like payroll, end-of-month reconciliation, or settling trades overnight.
Again, having digital solutions to help collect all this data is important as batch processing involves handling large amounts of information at once. And if the inputs are off in some way, the whole batch will be flawed. So it's best to have all expenses, invoices, payroll info and so on all running alongside each other. 
4. Adopt a learning mindset  
Great things come to those who never stop learning. That might be a bit of a life lesson, but it definitely applies to finance too. 
The people dealing with the company's money should be up-to-date with the latest and greatest standards and policies in finance and accounting. 
An easy way to do this is to provide various training opportunities, like in-house seminars, conferences and one-on-one coaching sessions. 
Not to mention cross-training, which can be very useful when another employee needs to temporarily step in and handle someone else's tasks. Nothing should be put on hold because someone finally takes that well-deserved week in the Caribbean. 
There are countless online sources for improving financial education, like Freakonomics Radio which publishes a new podcast each week covering the economics of... just about everything. The real gem of the podcast is that it really gets one thinking about out-of-the-box solutions for problems. 
And events aren't only useful for networking and free stuff (who knew!), you can actually learn something too. There's The Future of Finance & CFO Summit, held each year. While it may be smaller than some other conferences, it still offers lots of opportunities for knowledge sharing. 
Or Xerocon London, where thousands of accountants and bookkeepers can connect, learn and get inspired by one another. 
Not to mention that if you create a learning environment, your people feel more engaged and have a greater sense of purpose in their jobs, ultimately making them stick around. 
5. Improve team communication 
Communicating expectations and new processes effectively and regularly is a key step in boosting finance and accounting productivity. 
Adopting a new solution to help with payroll is great, but if there's no communication in place before it's rolled out you're not exactly starting off on the right foot. 
Obviously there will be a bit of transition period for the team. Ensuring that everyone is on the same page and understands the difference the solution is going to make and how it fits into the overall business strategy is part of it. 
Equally important, listen to their feedback and opinions, as they will probably have some good ideas on how to further eliminate time-consuming work and collaborate more collaboratively. 
Some easy ways to encourage continuous communication amongst team members is to utilise a project management software like monday.com (pssst! It's also part of our Pleo Perks program) for transparency on tasks. 
Identify group or project leaders to make sure things stay on track, and figure out which method of communication works best in your finance and accounting teams. Are you mostly remote based? Then daily video calls might be a good idea. All in-house? Then you should probably stick to in-person meetings. 
Let's just all agree that endless email threads are a no-go here. Please. 
6. Make use of analytics and reports 
Finally, take the time to review and analyse where the money is flowing in and out of your business. It's important to act on these insights. 
Again, a lot of the latest and greatest fintech tools provide an overview of activity as well as in-depth reporting. It's here that you can keep careful records of your business's cash flow, liabilities, assets and profits, which will help everyone make decisions to grow the business even more. 
But how do you know which ones to rely on or which tool would work best for your business?
Just want something that will show you the numbers? Accounting software like Xero and QuickBooks can visualise basic financial KPIs with standard built-in dashboards. 
Need financial reports on a more regular basis? Why not opt for an app like Xero marketplace, Futrli or Spotlight reporting. These can all connect with your accounting tools in order to provide financial reports like P&L, Balance Sheet and Cash Flow, with the ability to schedule automatic sends to business stakeholders, investors or clients. 
Need help in understanding what's driving your business? It's time to turn to an AI in order to access automatically generated insights. Hyper Anna is one of the best analytics software on the market. Powered by AI from end-to-end and coming from the enterprise space, it provides insights on all your KPIs, automatically brings attention to anomalies and outliers so you're never caught off guard or a decrease in revenue because a particular client, for example. 
So no need to stress – there are financial and accounting analytics for companies of all shapes and sizes.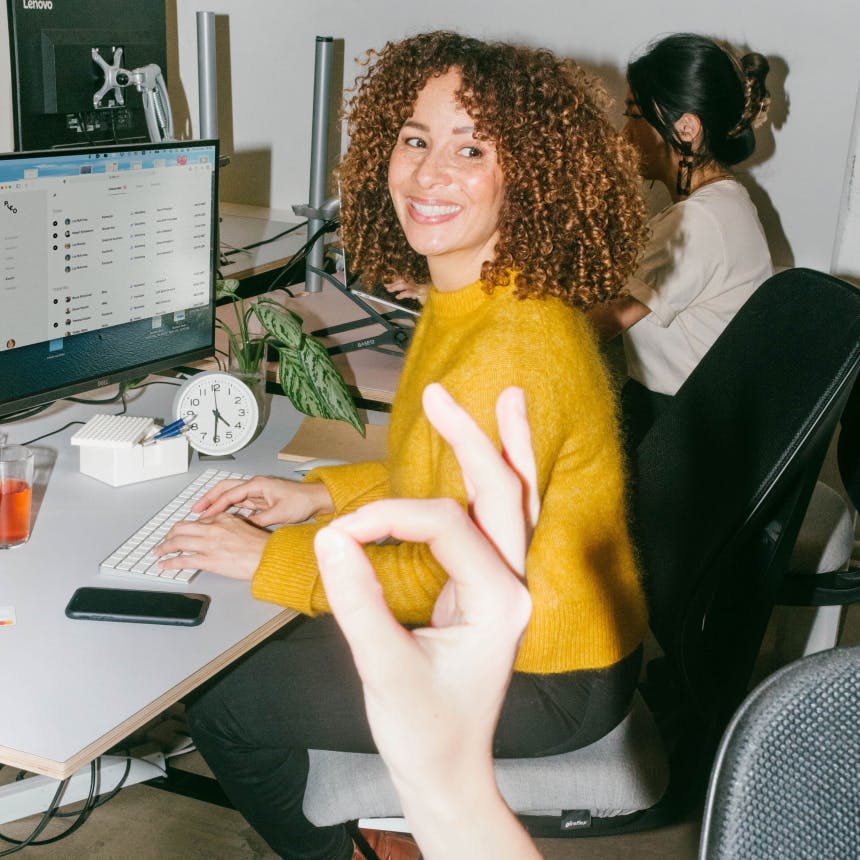 Smarter spending for your business
Save time on tedious admin and make smarter business decisions for the future. Join Pleo today.
Book a demo
Powered in the UK by B4B partnership, available soon

Content, demand gen and SEO professional. 5 years in the CPH start-up scene. Get in touch!
alicia@pleo.io
You might enjoy...
Graham Dyer, Director at AAB Group, explains how the firm helps clients pick the right tools to transform their processes.

---

For too long, the conversation around technology and accounting has tended to be negative. Let's change that – because embracing tech is eas...

---

We've put together some top tips on how to get ahead of the curve and strengthen your client relationships.

---
Get the Pleo Digest
Monthly insights, inspiration and best practices for forward-thinking teams who want to make smarter spending decisions
Powered in the UK by B4B partnership, available soon